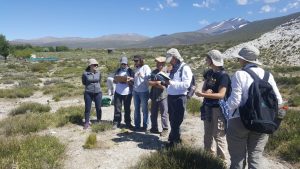 Anibal Prina from the Universidad Nacional de La Pampa, Argentina hosted Portuguese, Turkish and Spanish teams from the university of Coimbra, the University of Ankara and the University Rey Juan Carlos respectively.They visited the gypsum area in Neuquén, Argentina in November 2018.
Among their objectives the teams planned to study the
Taxonomic and functional characterization of the plant communities in the studied area in Argentina
wood anatomy of selected gypsophyllous plant species
Gypsum perennial plant community diversity using following a common sampling protocol.
During the trip partners collaborated providing different training and knowledge sharing actions.
"This experience which the Argentinian, Spanish, Turkish and Portuguese researchers came together and created a beautiful synergy, was quite impressive and useful."  Best Ozbay from Ankara University
Here are some of the photos of the expedition kindly provided by the University of Ankara team